This is an archived article and the information in the article may be outdated. Please look at the time stamp on the story to see when it was last updated.
A suspect who rammed a vehicle into a Redondo Beach police lieutenant's SUV was struck by gunfire after multiple officers opened fire in the parking lot of a Lawndale hotel on Tuesday, a Sheriff's Department official said.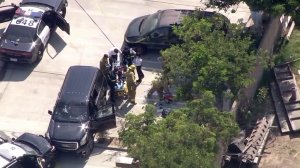 The suspect, wanted in the assault on a Redondo Beach officer last month, was hospitalized with at least one gunshot wound to the chest after the incident occurred at 15000 Hawthorne Boulevard about 9:30 a.m., according to Los Angeles County Sheriff's Department homicide Lt. Steve Jauch.
The lieutenant whose SUV was struck by the suspect's vehicle  was hospitalized in good condition, with a back injury.
Shortly after the shooting, aerial video from Sky5 showed an officer sitting in the back of an ambulance, and the suspect being taken on a gurney to another  ambulance. Bloodied clothing could be seen left in the parking lot.
A black GMC Yukon had multiple apparent gunshot holes in its shattered windshield, and it had collided head on with the marked police SUV, which was had one gunshot hole in the drivers' side of its windshield and had its airbag deployed, Sky5 video showed.
The incident began when uniformed Redondo Beach SWAT officers were looking for the suspect — who was not identified — after learning he was at the Best Western, Jauch said.
When they tried to detain him in a traffic stop, he managed to evade one police vehicle and then struck the lieutenant's marked SUV, Jauch said.
Multiple police officers opened fire, he said.
There was no indication the suspect also fired, and it wasn't known if any weapons were found in his vehicle, Jauch said. There was an outstanding no-bail warrant for the man's arrest, Jauch said.
A man who said he was there when the shooting occurred told KTLA he heard 18 or 19 shots.
The suspect was listed in serious condition, a sheriff's news release stated.
Sheriff's investigators, who are assisting Redondo Beach police in the case, had not talked to the officers involved as of early afternoon, Jauch said. There is no dashcam video of the shooting, but there may be bodycam video, he said.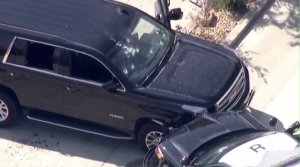 Authorities initially said they were searching for a second individual, but Jauch later said there was no information to indicate additional suspects were involved.
The hotel was evacuated, and Jauch said investigators need to do more work before guests can be allowed back in.
Lawndale is policed by the Sheriff's Department.