This is an archived article and the information in the article may be outdated. Please look at the time stamp on the story to see when it was last updated.
A massive crackdown on street racing in the Broadway-Manchester neighborhood of South Los Angeles resulted in 44 arrests, more than 200 citations and dozens of cars being towed early Monday, authorities said.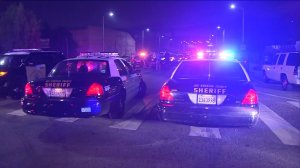 The multi-agency operation began around midnight at the intersection of Imperial Highway and Broadway in unincorporated South L.A. with law enforcement cars boxing in suspected street racing vehicles, according to Edgar Figueroa, a public information officer with the California Highway Patrol.
"We boxed them in here … because this is the main place they converge to do this illegal type of activity," Figueroa said.
The operation had been planned for about a week, according to Lt. Jodi Hutak of the Los Angeles County Sheriff's Department. CHP, multiple sheriff's stations and the Hawthorne and Inglewood police departments were also involved in conducting the operation.
Hutak and Figueroa both stated it was in response to a recent uptick in street racing incidents.
"We have problems with these racers coming out," Hutak said. "They have high-end cars with modifications, they drive fast, often they're under the influence of alcohol, and the increase in fatalities and traffic collisions is on the increase."
Initially, Hutak estimated that between 12 and 15 arrests were made and dozens of cars had been impounded.
The latest figures released by the Sheriff's Department showed 44 people were arrested, 209 were cited and 54 vehicles were towed.
The arrests ranged from drug-related offenses to those wanted on arrest warrants, a Sheriff's Department's news release stated. The citations included unlicensed drivers and those driving on a suspended license.
Hutak noted that pedestrians were cited because there are laws against spectating during street racing.
"The pedestrians that are on the sidewalks are just as much in danger as those driving and the passengers inside the cars," she said.
Approximately 100 officers aided in the operation, Figueroa said.
He added that law enforcement agencies would continue to monitor the area "from here on out, every single day."
Anyone with information about street racing was asked to contact the Sheriff's Department's Carson Station at 310-830-1123.
Those wishing to leave a tip anonymously should call Crime Stoppers by dialing 800-222-8477 or by using the website http://lacrimestoppers.org.
More Video: