This is an archived article and the information in the article may be outdated. Please look at the time stamp on the story to see when it was last updated.
At least two people were arrested in Pacoima on Sunday after a spontaneous party broke out celebrating Mexico's 1-0 victory over Germany in the World Cup, authorities said.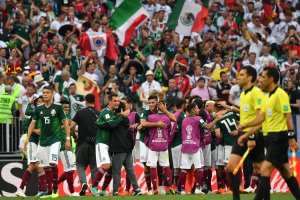 The Los Angeles Police Department said a third person may have been arrested on suspicion of being drunk in public.
About 300 fans of Mexico's national soccer team poured into the intersection of Laurel Canyon and Van Nuys boulevards around noon and lighted fireworks. The celebration was "uneventful" and the participants cheering El Tri were mostly cooperative, police said.
Large crowds also filled Whittier Boulevard in East Los Angeles, the Sheriff's Department said, prompting deputies to close part of the road. At one point, as many as 1,000 people were celebrating in the street, wearing soccer jerseys and waving Mexican flags.
Read the full story on LATimes.com.