This is an archived article and the information in the article may be outdated. Please look at the time stamp on the story to see when it was last updated.
Two people were killed and four others critically injured in a violent head-on collision Friday afternoon in Shadow Hills, according to the Los Angeles Fire Department.
The crash was reported just after 3 p.m. in the 9200 block of West La Tuna Canyon Road.
Rescuers had to pry away the mangled wreckage of the two vehicles to reach the injured victims, according to LAFD Battalion Chief Jaime Moore.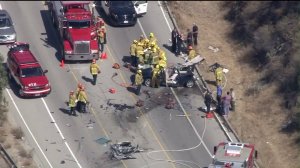 "They had to cut the posts, they had to peel the roofs back, and then they had to start separating the car, peeling the doors off," Moore said.  "So if you can imagine peeling an orange, it's exactly what they do to get to the inside."
Investigators with the Los Angeles Police Department believe speed and reckless driving were factors in the crash.
"At some point, one or both of those vehicles were driving on the wrong side of the road," said police Capt. Beverly Lewis.
All the victims were described as young men -- in their 20s or teens.
"What we have was impatient drivers trying to get around other motorists and crossing over on the wrong side of the road,"  Lewis said.
Two of the victims were pronounced dead at the scene, two other men and two boys were listed in critical condition.
"They were traumatic, crushing injuries that they experienced," Moore said.
A third vehicle was also struck.
The crash was still under investigation.
None of the victims has been identified.