This is an archived article and the information in the article may be outdated. Please look at the time stamp on the story to see when it was last updated.
Police followed a group of stolen vehicle suspects possibly in possession of weapons to a Van Nuys bank on Monday, where the two parties were engaged in a standoff.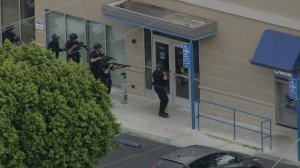 Officers did not say when exactly they began following the vehicle, but the people entered the bank around 6 p.m., Sky5 aerial footage showed.
The suspects, who were later identified as two female customers, entered a Chase bank location at 15249 Victory Blvd. and had begun to exit but ran back in when they noticed officers waiting for them outside, according to police.
"It was a LoJack hit and we followed them here to the parking lot, and that's where we got the call," said Sgt. Marlon Magana with the Los Angeles Police Department.
A bank employee moved all the customers to the back of the bank once police arrived, according to witnesses.
Patrons were seen evacuating the building just after 6 p.m., and one woman was detained. A short while later another woman was shown being detained by police.
Bank employees and patrons — children included — were seen lined up facing a wall in the bank's parking lot.
One woman who was in the bank at the time of the incident told KTLA that the suspects tried to blend in with other bank customers.
"They were being helped by an employee at the bank and when we looked over," said the patron who was at the bank with her two sons. "One of the suspects was looking out of the window and got scared when she saw the police pointing the assault rifles towards the building."
The two female suspects switched clothing in an attempt to confuse police before they were detained, according to officials.
No one was injured in the incident, police said.
Correction: An earlier version of this article incorrectly described the incident as an attempted bank robbery. The story has been updated.