This is an archived article and the information in the article may be outdated. Please look at the time stamp on the story to see when it was last updated.
Three people were injured, and several others have been displaced Wednesday after an early morning apartment fire broke out in North Hollywood.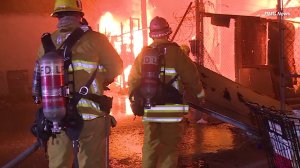 Crews arrived at the two-story building on Lankershim Boulevard near Sherman Way about 1:15 a.m. and found a "heavy volume of fire," Los Angeles Fire Department Battalion Chief Daniel Curry said.
Three people were injured in the fire, one patient who had to be transported to a local hospital with minor burns, Curry said.
More than 80 firefighters were at the scene and doused the flames in about 35 minutes, Fire Department spokeswoman Amy Bastman stated.
Four units were heavily damaged in the fire, causing eight residents to be displaced, Curry said.
Officials were assessing the viability of the remaining units.
Another building caught fire nearby a couple months ago, Curry said, adding that there was evidence of homeless activity in the area.
The cause of Wednesday's fire is under investigation.