This is an archived article and the information in the article may be outdated. Please look at the time stamp on the story to see when it was last updated.
At least two Los Angeles County Sheriff's deputies were injured in a Paramount house fire and a fight with suspect who was later taken into custody, officials said Thursday.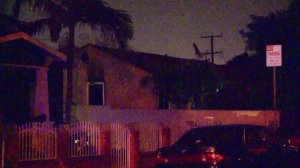 The incident was reported about 4:10 p.m. in the 6500 block of East San Luis Street, according to the sheriff's department.
A suspect was fighting with two deputies when fireworks went off and all three people were injured, officials said.
The deputies were taken to a hospital with minor injuries, while the suspect was taken to a local trauma center in unknown condition.
The Los Angeles County Fire Department also responded to the incident.
No shots were fired during the incident, but it is unclear why deputies were in the area and what led to the fight.
It is also unclear how the fire started, but arson and explosive experts with the sheriff's department are taking over the investigation, with assistance from the fire department.
KTLA's Nidia Becerra contributed to this story.