This is an archived article and the information in the article may be outdated. Please look at the time stamp on the story to see when it was last updated.
At least nine people were injured after a large white van plowed into a crowd of people in Mid-Wilshire on Sunday, according to the Los Angeles Fire Department.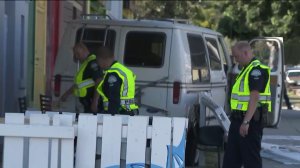 The collision occurred around 3:47 p.m. at 5088 W. Pico Boulevard near The Fish Spot, a sit-down restaurant in the area.
The driver allegedly swerved to avoid another vehicle, jumped the curb and drove through a fence before hitting several pedestrians in front of the restaurant, witnesses at the scene said.
"He believe he took a red light and the cars in the other lane were going already," said Gustavo Peña, a witness. "To avoid it he tried to swerve the other way and, unfortunately, went right into the group of people."
An initial Department incident report stated that seven people were injured but officials later confirmed that there were nine patients.
One victim, a 44-year-old man, was transported to a local hospital in critical condition, the Department said.
Three victims, a 18-year-old woman, a 28-year-old woman and a 30-year-old man, were transported in serious condition and four other victims were transported in fair condition, the Department added.
The driver fled the scene after the collision and was arrested in connection with a hit-and-run crash, according to the Los Angeles Police Department.
He was transported to the hospital after suffering from medical distress, police added.
An off-duty Los Angeles firefighter was in the crowd at the time of the crash but did not sustain any injuries requiring medical attention, authorities said.