This is an archived article and the information in the article may be outdated. Please look at the time stamp on the story to see when it was last updated.
Hundreds of Wal-Mart workers and those supporting them protested alleged retaliation by the retail giant near a Pico Rivera store Thursday evening, with dozens getting taken into custody by the Sheriff's Department.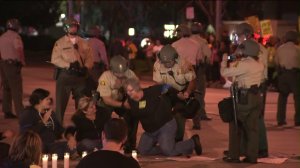 The arrests, which took place where workers sat in an intersection at Paramount and Washington boulevards, followed an earlier sit-in strike at the company's Crenshaw Boulevard store in Baldwin Hills.
Photos posted by a union on Twitter showed people holding signs with their mouths taped closed inside the store. Photos were being posted from protests nationwide under the hashtag #Walmartstrikers.
"I'm sitting down on strike today to protest Walmart's illegal fear tactics and to send a message to management and the Waltons that they can't continue to silence us and dismiss the growing calls for $15 an hour and full-time work that workers are raising across the country," said striker Kiana Howard in a news release distributed by the national organization OUR Walmart.
A union-supported group of employees, OUR Walmart is calling for Wal-Mart to pay $15 per hour and provide consistent, full-time hours to workers.
In a statement, a spokesman said Wal-Mart was "proud to be a company of opportunity."
"Our workers have access to unparalleled advancement opportunties, cash bonuses, a 401(k) plan and many other benefits," said Kory Lundberg, director of media relations for Wal-Mart.
Beginning at 5 p.m. outside the Pico Rivera Walmart on Washington Boulevard, sign-waving workers and supporters of the movement gathered by the hundreds.
Some sat down in a circle in the middle of the busy intersection while Los Angeles County Sheriff's Department deputies held batons and wore helmets. Deputies pulled them to their feet and took them away to be loaded into a bus, video from the scene showed.
A woman who was sitting in the circle said she was willing to get arrested in protest of what she called "retaliation" against her fellow workers.
"We have a lot of associates who spoke up and were fired, and we need to stop it," the woman said.
"I have two sons and it's their future that I'm concerned about, mainly. Wal-Mart is setting the trend for all companies," said the worker, who gave her name as Denise. "If we don't change it now, the future of our youth is in dire straights."
BREAKING: Walmart workers in Los Angeles holding a sit-in strike right now! http://t.co/PF0F3GLpZs #WalmartStrikers pic.twitter.com/JPKFYwlUso

— UNITE HERE (@unitehere) November 13, 2014
More Video: