This is an archived article and the information in the article may be outdated. Please look at the time stamp on the story to see when it was last updated.
Police apprehended a suspected hit-and-run driver who crashed an Audi R8 into an Uber-marked vehicle in Hollywood early Friday morning.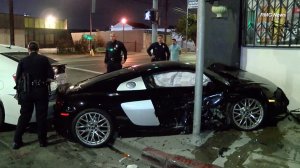 The crash occurred about 12:44 a.m. near the intersection of Santa Monica Boulevard and Wilcox Place, Los Angeles Police Department Officer Hernandez said.
Investigators believe the Audi driver ran a red light before colliding with a passing Toyota Prius, Hernandez said.
The driver of the Audi fled on foot, but was quickly detained by a police officer who saw him running from the crash.
Video showed an officer apparently retrieving a handgun from the Audi and placing it into a bag.
An Uber sticker could be seen on the windshield of the damaged Prius, but Hernandez did not know if the driver was working for the ride-hailing service at the time of the crash.
No injuries were reported in the incident, Hernandez said.
KTLA's Geoff Peters contributed to this report.