This is an archived article and the information in the article may be outdated. Please look at the time stamp on the story to see when it was last updated.
After a 20-year-old Los Angeles resident was identified Monday as the victim of a lightning strike in Venice Beach the previous day, his uncle was speaking about the young man's "always happy" attitude.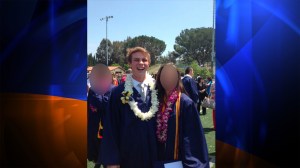 Nick Fagnano was believed to be swimming or surfing when he was hit by lightning near the 3500 block of South Ocean Front Walk (map) Sunday afternoon.
He was missing for about an hour before he was found and transported to a Marina del Rey hospital, where he later died.
Fagnano was identified Monday morning by Ed Winter of the Los Angeles County coroner's office.
A 2012 graduate from Notre Dame High School in Sherman Oaks, Fagnano had attended Santa Barbara City College, according to his uncle, Dennis Shanahan.
He was slated to begin classes next month as a junior at University of Southern California, which was his dream school, after he was accepted as a transfer student, Shanahan said.
In one family photo, Fagnano could be seen wearing a cardinal and gold USC football jersey and smiling.
"That picture was taken right after he opened the envelope," he said.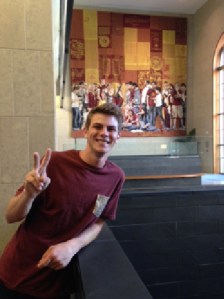 The family had recently moved to a loft in downtown L.A., and his nephew planned to study real estate and urban development, according to Shanahan .
He said Fagnano, who went by Nick, was hard working, ambitious and "truly kind-hearted." He was a Catholic and faith was important to him, as were the Dodgers, Shanahan said.
"He was the most amazing kid. No one else like him," Shanahan added. "It was like he was always walking on air."
Santa Barbara City College's baseball team tweeted about the "loss of a great friend," saying Fagnano was an outstanding player and "even better person."
A service was set to be held for Fagnano at 5 p.m. Thursday at St. Brendan's Church in Hancock Park.
On Sunday, Faganano had went to the beach with friends, and had been in and out of the water. The group was about to leave for the day when he decided to go in for one last dip to rinse the sand off his feet.
It was at that moment that the lightning hit the water.
Fagnano was among eight people rushed to local area hospitals as a result of the strike, according to the Los Angeles Fire Department. He was pronounced dead a short time later.
"You hear this all the time but parents, hug your kids tonight. Cherish every moment, even if they're bugging you. Cherish every moment you have with them," Shanahan said. "And hey, uncles, nephews, the whole family is going to miss Nick tremendously."
More Video: