This is an archived article and the information in the article may be outdated. Please look at the time stamp on the story to see when it was last updated.
A man was charged with multiple felonies on Tuesday after allegedly breaking into supermodel Miranda Kerr's Malibu home and attacking a security guard.
Shaun Anthony Haywood, also known as Esra, faces one felony count each attempted willful, deliberate and premeditated murder, aggravated mayhem, and assault with a deadly weapon, a knife.
The case also includes the allegation that Haywood inflicted great bodily injury on the victim.
Haywood allegedly broke into Kerr's home on Oct. 14 to deliver a letter to the supermodel, prosecutors said. Once inside, he was confronted by a security guard.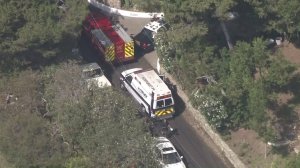 The Australian 29-year-old allegedly grabbed the guard's knife stabbed him in the face right below the eye, according to authorities.
"It's kind of a crazy thing to happen out here in Malibu," neighbor Craig Moore told KTLA. "I guess it happens everywhere but we just don't ever have it happen in our neighborhood."
The guard was able to break free and shoot Haywood in the head. Both men were treated at a local hospital.
Neighbors said the incident was the second time police responded to an intruder call at Kerr's house that week.
Haywood faces a possible maximum sentence of life in state prison if convicted. His bail is recommended at more than $1 million.