This is an archived article and the information in the article may be outdated. Please look at the time stamp on the story to see when it was last updated.
Hundreds of rescue personnel dressed in white overalls are sifting through smoldering rubble and mangled cars, searching for human remains in California's deadliest and most destructive wildfire.
The Camp Fire has killed at least 56 people in Northern California's Butte County and turned the hard-hit town of Paradise into ash and debris. At least two other people have been killed in another major wildfire in Southern California, putting the state's death toll at 58 since the two blazes began last week.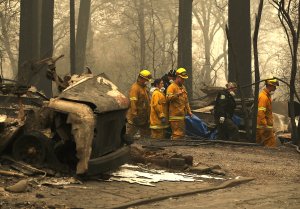 In the Camp Fire's devastating aftermath, cadaver dogs, deputies and coroners are searching the ruins where Paradise, a town of 27,000, once stood.
About 300 names are on a sheriff's office list of people reported missing in the county, though some names appear more than once and it's not clear if any are duplicates. Officials have said it's hard to determine the number of missing, because some people may have evacuated and can't be reached with cell phone service unreliable due to the fire.
More than a quarter of Paradise's residents are senior citizens, and many on the list of the missing are 65 or older.
Butte County Sheriff and Coroner Kory Honea has invited relatives of the missing to visit the sheriff's office in Oroville on Thursday so authorities can collect DNA samples from them. The DNA will be used to help identify fire victims, Honea said.
"This is a daunting task. We feel really bad for the people who don't know what happened to their loved ones and our hearts go out to them," Butte County Sheriff's Investigations Sgt. Steve Collins said. "We want to give them some answers."
President Donald Trump will visit the region Saturday.
Troops, cadaver dogs and coroners involved
The somber search for the missing in Butte County is painstaking.
It involves 461 people and 22 cadaver dogs in Paradise and in parts of the communities of Magalia and Concow, authorities said.
Dozens of National Guard troops have joined the search effort, Collins said. Once they find the remains, with the help of forensic experts, the coroners are sent to recover them.
To enable searchers access to the destroyed structures, crews help move collapsed buildings and roofs out of the way.
The white overalls protect the rescue workers from ash and debris and help avoid contamination, Collins said.
"They are going to be searching vehicles that have been burned. They'll be searching residences that have been burned. Checking around the residences … our mission is to find the victims from this fire, recover them and get them identified and notify the families to give them some answers."
The search area is wide and spread out.
"It's not just the area; it's the number of homes, the number of trailers, the multistory buildings. All of that changes the complexity of this operation," Collins said.
Experts are conducting targeted searches by first sending deputies to areas in which people have been reported missing. The number changes daily with more calls coming in.
"We're trying to follow up with those people who are calling in to find out if they've made any contact with their loved ones," Collins said. "We're asking people to call us if they do come in contact with their loved one so that we don't spend time looking for somebody that's already found."
Housing shortage
Families who lost their homes in the fires are going to have a very hard time finding a place to live, Butte County Housing Authority Executive Director Ed Mayer said.
"We just had 10% of our county's housing stock erased in one day; it's hard to convey the significance of that," he said.
A Walmart in Chico has a parking lot full of vehicles, including motor homes, in which people are living, often running the heat in their cars and trucks all night. Other people are staying in tents.
"It's been a week and people have been great, but I don't know how long it's going to last," Mayer said. "Short term, we are fine, but long term we are not."
One of the selling points of Paradise was its affordable housing, but that's been erased, Mayer said.
"And there is nothing to replace it" for low-income families, he said.
Suspected outbreak of norovirus reported
More than 9,600 firefighters, including many from out of state, are battling wildfires across California.
The Camp Fire, which has destroyed about 8,650 homes and scorched 140,000 acres in Northern California, is one of several in the state. By Thursday morning, it was 40% contained.
Adding to the misery for evacuees, officials reported a suspected outbreak of norovirus at a shelter in Chico. Evacuees showed some symptoms, but officials are awaiting for test results for confirmation. The stomach bug causes vomiting, nausea and diarrhea.
Other fires in the state
In Southern California, the Woolsey Fire — which, like the Camp Fire, began November 8 — has killed at least two people in Malibu. Authorities are trying to determine whether a third person found in a burned home in Agoura Hills died as a result of that fire, the Los Angeles County Sheriff's Department said.
The Woolsey Fire has burned more than 98,000 acres and destroyed more than 500 structures, but firefighters have started to gain the upper hand on the blaze, with 57% of it contained. More favorable weather conditions are expected Thursday.
More than 230,000 acres burned in California in the past week. That's larger than the cities of Chicago and Boston combined. And in 30 days, firefighters have battled more than 500 blazes, said Cal Fire, the state's forestry and fire protection agency.
More than 300,000 people have been forced from their homes statewide. Most of those live in Los Angeles County, where 170,000 were evacuated.
The evacuees included celebrities who lost their homes in Malibu as well as first responders who are still working despite their own homes being destroyed.