This is an archived article and the information in the article may be outdated. Please look at the time stamp on the story to see when it was last updated.
Authorities on Saturday released the names of the four people who were fatally shot at a Rowland Heights residence on New Year's Eve, including the gunman accused of killing three victims.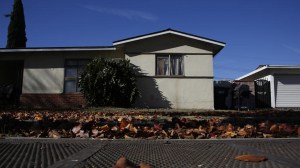 The Los Angeles County coroner's office has identified them as: Michael John Morey, 54; Betty Jean Morey, 54; Linda Patricia Merrell, 48; and Ernesto Calzadilla, 27.
Investigators from the L.A. County Sheriff's Department told the Los Angeles Times that a 54-year-old man shot and killed the three others before his son, Christopher Morey, wrestled the gun away from the father and fatally shot him.
The incident took place shortly before 8:40 p.m. Thursday in the 2200 block of Batson Avenue, according to the Sheriff's Department.
Authorities initially told the newspaper that the victims were the younger man's bedridden mother, his girlfriend and a friend.
All four, including the father, died at the scene, authorities said. A semi-automatic handgun was recovered from the location.
Morey, 33, was arrested and booked on suspicion of murder after calling authorities to report the incident, according to the Times.
He was being held in lieu of $1 million bail, inmate records showed. Prosecutors will have to decide whether to charge Christopher Morey in the case.
"We'll see what the D.A. wants to do," Lt. John Corina of the Sheriff's Department told the newspaper. "We're going to book him for what he did — he killed another human being. The district attorney will decide if it was justified."
The motive for the initial shooting has not yet been determined; Corina told the newspaper one possibility investigators were looking into was that it stemmed from a dispute earlier in the day over the use of a washing machine.
"We're still trying to corroborate what exactly happened and [Morey's] version of events," the lieutenant said. "We're trying to piece it all together."
Anyone with information about the case has been asked to call the Sheriff's Department's Homicide Bureau at 323-890-5500.
Those who would like remain anonymous were urged to contact Crime Stoppers by calling 800-222-8477, texting the letters TIPLA plus a tip to 274637, or visiting the website http://lacrimestoppers.org.
KTLA's Briana Epps contributed to this story.