This is an archived article and the information in the article may be outdated. Please look at the time stamp on the story to see when it was last updated.
The Los Angeles County coroner's office on Tuesday identified an 81-year-old man killed in a hit-and-run crash in Torrance the previous night amid the search for the driver. Around 8:40 p.m. Monday, Ghulam Ali Khimani was walking in a crosswalk at Del Amo Boulevard and Mariner Avenue when he was fatally struck, according to the Torrance Police Department.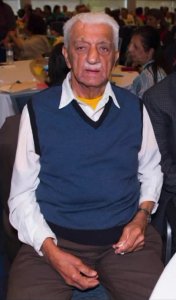 Khimani was just down the street from his home, walking back from a prayer service at a community center, when he was killed, according to his son Ali. Ali said losing the patriarch of their tight-knit, Pakistani family has been especially difficult with the family still reeling from the death of Khimani's wife eight months ago. "It's a real hardship for our family right now," he said. Ali described his father as a "very lovable person" and "very family-oriented guy." The car that fatally struck him had a green light and the right of way, but the driver didn't stop after hitting the pedestrian, a police news release stated. Instead, the driver sped off, leaving the seriously injured man to die at the scene, police said. Joe Mendez, who also lives in the area, said he ran out to the street immediately upon hearing the impact but it appeared Khimani was already dead. Distraught family members arrived at the scene a short time later. "He hit somebody's loved one," Ali said of the driver. "He should have the courtesy to stop." Authorities have not yet released a description of the suspect, and it's unknown whether the driver was a man or woman. Police describe the vehicle involved as a blue or gray, four-door Honda sedan that is believed to have front-end damage. Investigators — and Khimani's family — are seeking the public's help to track down the hit-and-run driver. Khimani was first identified as the victim on Tuesday by Sarah Ardalani, a spokeswoman for the coroner's office. Traffic investigators were canvassing the area to find surveillance video of the incident, Sgt. Ronald Harris told KTLA on Tuesday morning. Del Amo was closed between Hawthorne Boulevard and Prairie Avenue for several hours amid the investigation. Anyone with information about the case is asked to call Torrance police at 310-618-5557.
KTLA's Alberto Mendez and Erika Martin contributed to this story.