This is an archived article and the information in the article may be outdated. Please look at the time stamp on the story to see when it was last updated.
Authorities early Monday identified a 7-year-old girl who died after her mother crashed into a South Los Angeles home while apparently driving under the influence.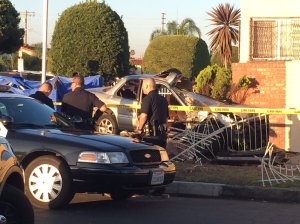 Angelina Lynn Romero was was pronounced dead at the scene Sunday afternoon after being ejected from the car, the Los Angeles Police Department said.
An 18-month-old boy, a 6-year-old boy, a 4-year-old girl and the 30-year-old mother remain hospitalized in critical condition Monday, officials said. They all suffered traumatic brain and torso injuries.
The crash was reported just before 6 p.m. in the 700 block of 93rd Street.
The children were pulled out of the vehicle by residents in the area, and none were secured properly, LAPD Sgt. Allan Rabina said.
The mother, who has not been identified, will be charged on suspicion of DUI-related gross vehicular manslaughter, he said. Other charges are pending.
Speed appears to be a factor in the crash, but it is unclear how fast the driver was going at the time.
Investigators will be reviewing surveillance video taken at a nearby home to help determine why the driver lost control, Rabina said.
Several people were inside the home at the time of the crash, but no one was injured.