This is an archived article and the information in the article may be outdated. Please look at the time stamp on the story to see when it was last updated.
A 25-year-old man turned himself in to police Sunday after a transgender woman's stabbed body was found when firefighters extinguished a blaze at a Van Nuys apartment the previous day, Los Angeles Police Department officials said.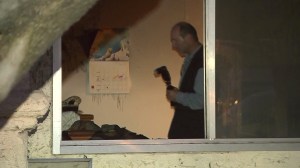 "He walked into the 77th station with a local pastor to turn himself in," LAPD Sgt. Neil Wank said.
Ezekiel Dear, 25, was being interviewed by Van Nuys homicide detectives regarding the death of 33-year-old Michelle Vash Payne, also known as Michael Vash Payne.
 Although neighbors said police were searching for the victim's boyfriend after Payne's body was found, Wank could not confirm the connection.
"I cannot confirm or deny the status of their relationship, but I can confirm someone did confess," Wank said.
Los Angeles firefighters responded about 5 a.m. Saturday to a call of a structure fire in the 14600 block of Saticoy Street, where they forced entry into the apartment and "quickly extinguished" a small blaze in a rear bedroom, according to an LAPD news release.
The firefighters found Payne lying on the floor of the kitchen, the release said. Paramedics pronounced the victim dead at the scene.
Los Angeles Police Department homicide detectives responded to the location and discovered that the deceased person had suffered multiple stab wounds, the statement said.
The murder weapon was recovered at the scene, according to the LAPD.
Investigators were seeking a person of interest in the case. He is described as a black man in his mid-20s, standing about 5 feet 8 inches tall and weighing approximately 150 pounds.
It was unclear if police were continuing to search for anyone in connection to the crime.
Homicide detectives expected to arrest Dear on murder charges Sunday night, Wank said.
It wasn't known if arson, or other charges would be filed, he added.