This is an archived article and the information in the article may be outdated. Please look at the time stamp on the story to see when it was last updated.
A man wanted in a high-speed pursuit that spanned several cities and freeways across Los Angeles County was in custody Monday evening after spending several hours barricaded on a roof in Culver City.
https://twitter.com/SEBLASD/status/537050680830091265/photo/1
Aerial video showed the suspected driver pacing atop the building, located in the 9600 block of Lucerne Avenue (map). At one point, the man could be seen trying to barricade an access door as authorities waited below.
Sky5 first arrived over the pursuit as authorities were chasing a white SUV on the southbound 170 Freeway at about 1 p.m.
After transitioning to the 101 Freeway, the driver eventually exited in Hollywood and took surface streets through Hancock Park, Koreatown, Mid City, Beverly Hills and Culver City.
The SUV nearly ran into several other cars and just missed a hitting a pedestrian while driving through Hancock Park.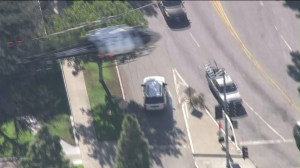 At one point, the driver pulled into what appeared to be an apartment building parking lot, but drove out again before authorities could get to him.
Video showed at least two people were inside the SUV, which came to a stop after crashing through the gate of a parking lot in Culver City.
Authorities began a search for the SUV's occupants in the 9600 block of Lucerne Avenue (map), but it was unclear how many people exited the vehicle.
At least one of the people may be wanted for assault with a deadly weapon, according to Nuria Vanegas of the Los Angeles Police Department.
A number of road closures in the area of Lucerne Avenue and Van Buren Place related to the barricade were canceled as of 5:30 p.m.
More video: