This is an archived article and the information in the article may be outdated. Please look at the time stamp on the story to see when it was last updated.
A driver of a reported stolen Ford Mustang surrendered to authorities around midnight after leading authorities on a wild pursuit through Los Angeles County late Monday night.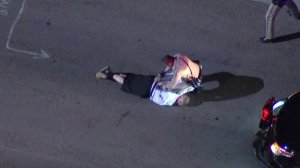 Around 10:45 p.m., Los Angeles Police Department officers began pursuing the stolen Mustang, which was spotted in the area of Main Street and Fremont Avenue near El Sereno, according to LAPD Officer Mike Lopez.
The chase lasted more than an hour and spanned multiple cities through the eastern part of Los Angeles County, including Commerce, Downey, Monterey Park and Alhambra, Lopez said.
The driver hopped on and off several freeways as he led police south on the 5 Freeway into Orange County, then circled back into the East Los Angeles area, where Sky5 first picked up the chase around 10:50 p.m.
The driver appeared to be traveling at high speeds and erratically at times as he drove through some red lights and drove on the wrong side of the road at various points of the chase, Sky5 aerial video showed.
Lopez confirmed the vehicle was going more than 100 mph at one point.
At one point, the car drove through cones blocking off a construction zone on the 710 Freeway as it traveled through the closed-off lanes, according to the aerial footage.
By 11:50 p.m., the chase had moved into residential parts of El Sereno, and a California Highway Patrol SUV was tailing the Mustang, which was starting to drive at slower speeds.
Around midnight, a California Highway Patrol successfully performed a PIT maneuver on the Mustang, which came to a stop at Valley Boulevard and Vineburn Avenue in El Sereno around midnight.
The driver then climbed out of the vehicle, put his arms up in surrender and was eventually taken into custody by police, according to the aerial video.
The Los Angeles Police Department — which confirmed the car was reported stolen — initiated the pursuit, but the California Highway Patrol later took it over.
No additional information was immediately released by authorities.
KTLA's Nidia Becerra and Alexandria Hernandez contributed to this story.