This is an archived article and the information in the article may be outdated. Please look at the time stamp on the story to see when it was last updated.
Officers used a Taser to help detain a man in a packed Venice Beach parking lot after he led them on a pursuit from Orange County to Los Angeles County Friday afternoon.
The driver, who police identified as 28-year-old Austin Joseph Hall, was suspected of assaulting his mother and violating a restraining order, according to Placentia Police Department Sgt. Joe Connell. Police said it's his third time violating a restraining order.
The chase began when Placentia police responded to a domestic violence call in the 600 block of Trumpet Avenue around 11:45 a.m., according to a news release.
Witnesses told officers Hall had left the scene in a vehicle, which police soon located and attempted to stop. Hall, who police said is homeless, refused to pull over and a pursuit ensued.
The pursuit went from Placentia city streets to the southbound 57 Freeway, westbound 91 Freeway, northbound 405 Freeway, and was eventually taken over by California Highway Patrol officers.
The fleeing SUV was seen going the wrong way in the Santa Monica area before driving into a packed parking lot near the boardwalk in Venice Beach, aerial video showed.
In the parking lot, Hall stopped the vehicle, emerged shirtless and barefoot, and appeared to walk away waving his arms around while several officers pointed guns at him, video showed.
Police said he refused to comply with officer demands to surrender, so a CHP officer used a Taser on Hall, who fell to ground.
Officers put Hall in handcuffs and escorted him into a police vehicle as a large crowd of beachgoers gathered to watch.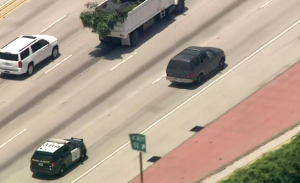 Because police used a Taser and he fell to the ground, Hall was taken to a local hospital to be examined. After he was medically cleared, Hall was taken to the Placentia Jail and later transferred to the Orange County Jail.
Hall was charged with terrorist threats, violation of a domestic violence restraining order, felony evading, and resisting arrest, according to police.
KTLA's Jennifer Thang contributed to this report.
The pursuit driver was taken into custody after CHP officers used less-than-lethal force near the boardwalk of Venice Beach https://t.co/iWFzMRMZAJ pic.twitter.com/GReGMYzYaf

— KTLA (@KTLA) July 12, 2019