This is an archived article and the information in the article may be outdated. Please look at the time stamp on the story to see when it was last updated.
Android users, if the above player does not work, please click here.
Four people suspected of robbing a 7-Eleven were in custody Thursday morning after after a pursuit that began in South Los Angeles came to an end in the Arleta.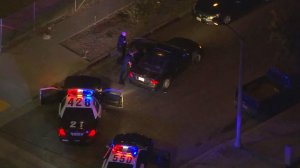 Authorities chased the car through several neighborhoods before the driver came to a stop near the 5 Freeway in Arleta at about 5:15 a.m., aerial video from Sky5 showed.
The four people inside the car were suspected of robbing a 7-Eleven before the pursuit started, said a spokesperson for the Los Angeles Police Department.
As soon as the car came to a stop, the driver's side door opened and one person fled on foot from authorities.
A second person who exited the vehicle from the passenger side was immediately taken into custody.
Sky5 was overhead as two others were detained, although it was unclear when they exited the vehicle.
The final robbery suspect was eventually taken into custody within a perimeter set up by police, Capt. Paul Vernon of the Police Department tweeted just before 9 a.m.
https://twitter.com/LAPDPaulVernon/status/756155893360668673
https://twitter.com/LAPDPaulVernon/status/756156373520355329
KTLA's Alberto Mendez contributed to this report.