This is an archived article and the information in the article may be outdated. Please look at the time stamp on the story to see when it was last updated.
Officials detained a Mercedes-Benz driver after a pursuit through Orange County ended in a nearly hourlong standoff in Newport Beach Wednesday afternoon. Sky5 was initially overhead the chase around 3:40 p.m. as the pewter-colored sedan was heading into the Irvine area on Highway 73.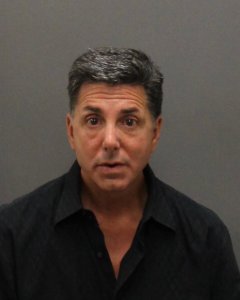 Police in Laguna Beach initiated the pursuit around 3 p.m. because the driver — Richard Bloustine, 53, of Newport Beach — was wanted on a no-bail warrant, according to Jim Cota, a public information officer for the department. Cota said Bloustine has a criminal history of fraud and assault with a deadly weapon. His active warrant is for a felony fraud case, Newport Beach police said in a
news release
. In 2016, Bloustine was sentenced to seven years in prison after pleading guilty to five counts of grand theft, 10 counts of writing bad checks and taking a car without permission, after being previously convicted of similar crimes in several other jurisdictions, the
Orange County Register
reported. On Wednesday, Bloustine called O.C. sheriff's and California Highway Patrol dispatchers to tell them he had a gun, but after searching his body and car authorities were unable to locate a firearm, Cota said. The Mercedes was maneuvering swiftly but not dangerously as it was followed by a line of about a dozen law enforcement SUVs off Highway 73 and into the Costa Mesa area on surface streets. The sedan wound around roads surrounding the John Wayne Airport but avoided turning into the facility. Bloustine then headed south on Jamboree Road into Newport Beach, rounding around the Fashion Island mall. After circling around for several minutes, Bloustine pulled into a parking lot at 1441 Avocado Ave. at about 4:10 p.m., and a standoff with authorities ensued. Bloustine sat very still in his car — positioned to face a pair of law enforcement SUVs surrounded by officials with guns raised and a K-9 — about 30 minutes before a SWAT team arrived. At 4:55 p.m., a second bearcat pulled up behind the Benz, and Bloustine simply got out and laid out on the ground to surrender. Crisis negotiators had been speaking with him via phone, police said. Authorities handcuffed the suspect and sat him down for questioning before loading him into the back of a police cruiser. He was later placed into the custody of Laguna Beach police, officials said.