This is an archived article and the information in the article may be outdated. Please look at the time stamp on the story to see when it was last updated.
A suspected stolen-vehicle driver was taken into custody Monday morning following a high-speed pursuit and eventual standoff with officers on an overpass in San Bernardino.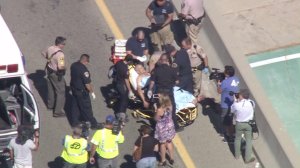 The driver was initially headed westbound on the 60 Freeway when CHP officers took over the pursuit from local police, said California Highway Patrol Officer Alex Rubio.
The driver was in a stolen vehicle, Rubio said.
At about 9:15 a.m., aerial video from Sky5 showed the driver in a black Toyota Camry, which had transitioned to the eastbound 10 Freeway, being followed by several CHP patrol cars.
At one point, video appeared to show the driver throwing something out of the window and then gesturing to officers as he continued traveling eastbound.
The car appeared to be speeding and passing other vehicles on the shoulder. At least three CHP units were following closely behind, aerial video showed.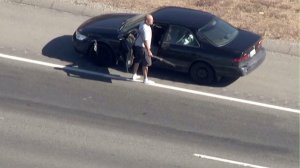 "The strategy that we use is pursue the suspect as safely as possible. If this at any point gets too dangerous, we will back off so the person, hopefully, slows down and … brings the risk down to the public," CHP Officer Brian Diaz said.
The driver was believed to be the sole occupant of the stolen vehicle, Diaz said.
The driver pulled over near the Palm Avenue overpass on the northbound 215 Freeway in San Bernardino at about 9:53 a.m. and got out of the vehicle. He carrying some type of long, thin object, video showed.
After waving the object toward officers, the man dodged traffic and crossed over to the southbound side of the freeway where he stood on an overpass.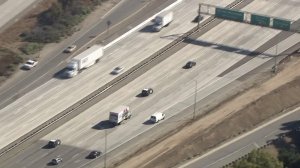 Authorities stopped traffic and slowly approached toward the man; one officer had a K-9.
Officers eventually managed to swarm the man as he stood near the divider of the overpass, almost appearing ready to jump to the roadway below.
Diaz called it a "very chaotic" scene.
"When we saw him go to the edge of the overcrossing there, we were afraid that he was going to do something drastic," Diaz said.
Several officers held the man down as he was handcuffed and taken into custody at about 10:09 a.m. Emergency crews could be seen treating the bloodied man for more than 15 minutes as he sat on the side of the overpass.
The man was eventually loaded onto a stretcher and taken away in an ambulance to Arrowhead Regional Medical Center. He told reporters at the scene he had been looking for work.
He will initially be held on suspicion of felony evading and possession of a stolen vehicle, Diaz said.
KTLA's Melissa Pamer contributed to this article.
He says he has been trying to get work and mental health help. pic.twitter.com/fp9wwHSAoL

— Beatriz Valenzuela (@BeatrizVNews) September 26, 2016