This is an archived article and the information in the article may be outdated. Please look at the time stamp on the story to see when it was last updated.
Authorities used a spike strip to flatten the tires of a stolen rental truck and bring a nearly 90-minute pursuit to an end in Fontana Monday.
The pursuit began near the intersection of San Fernando Road and Sheldon Street (map) in Sun Valley at about 12:45 p.m., according to officer Nuria Vanegas of the Los Angeles Police Department.
Aerial video showed a Budget moving truck driving down the 210 Freeway with the rear hatch open and a washer or dryer visible inside.
The truck was apparently taken when a customer left the key in the ignition and went into a store, according to Budget employee Eddie Hernandez.
The driver initially took surface streets to gain access to the southbound 5 Freeway before getting on the 134 Freeway.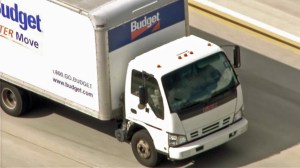 The driver then headed eastbound on the 210 Freeway with California Highway Patrol vehicles in pursuit.
Just before 2 p.m., the truck ran over a spike strip in the freeway and soon came to a stop on the transition road to the northbound 15 Freeway in Fontana.
Several patrol cars then stopped behind the truck and waited for the driver to exit.
When the driver refused to get out of the truck, officers approached with guns drawn, video showed.
A man finally exited the vehicle and was taken into custody without further incident.