This is an archived article and the information in the article may be outdated. Please look at the time stamp on the story to see when it was last updated.
The driver of a white utility truck was detained after slamming into another vehicle in Pasadena following a dangerous pursuit through Northeast Los Angeles and the San Gabriel Valley Thursday afternoon. Sky5 was initially overhead the chase shortly before 5 p.m. in the Highland Park area. The utility pickup was stolen out of Bell Gardens, Pasadena police said.
The driver was maneuvering dangerously at high speeds, blowing through intersections and at times driving on the wrong side of the road, narrowly missing other vehicles. From Highland Park, the pickup driver began winding around surface streets in South Pasadena and Alhambra. He then returned to Highland Park and briefly got onto the southbound 110 Freeway before exiting at Avenue 52 and getting onto the northbound lanes. The driver exited the freeway again in South Pasadena, where streets were full of evening commuters. He again wound back to the Highland Park and Eagle Rock areas. The suspect vehicle kept up a swift pace as it circled the neighborhoods, and law enforcement vehicles were only occasionally visible behind it. Around 5:12 p.m., the pickup got onto the 134 Freeway heading east, then switched onto the westbound 210 Freeway. He wove around to the southbound 210, then got off near the Rose Bowl and headed toward downtown Pasadena. At 5:18 p.m., the driver then crashed into a Toyota RAV4 while speeding through the intersection of Orange Grove Boulevard and Holly Street.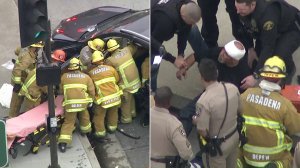 The suspect was treated for minor injuries, Pasadena spokeswoman Lise Derderian said. He got out of the truck and raised his hands in the air. Authorities took him into custody. Firefighters spent about 20 minutes cutting the driver of the SUV free from her badly damaged SUV, Derderian said. The woman, 53, was taken to a nearby trauma center in serious condition. The SUV's only occupant, a woman, was pulled from the vehicle at 5:39 p.m. and loaded into an ambulance. She did not appear to be conscious. Officials could also be seen medically evaluating the suspect, whose head was bandaged. Firefighters had been watching the pursuit approaching Pasadena on television and realized the potential for danger, Derderian said. They had already "suited up" and were ready to respond when the crash occurred. No further details were immediately available.