This is an archived article and the information in the article may be outdated. Please look at the time stamp on the story to see when it was last updated.
A man whose truck was being chased by authorities fled on foot into a Burbank neighborhood Thursday morning.
Sky5 was first overhead the incident around 7:15 a.m., as a flatbed truck was seen weaving through traffic, getting on and off the 5 Freeway, with the Los Angeles Police Department in close pursuit.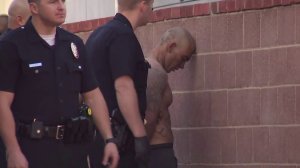 The motorist was originally being sought on suspicion of grand theft auto, said Officer Norma Eisenman with the Los Angeles police.
By 7:18 a.m., the driver had gone into a residential neighborhood and got out of the truck, running to hide in the shed area of a backyard on the 1900 block of Keeler Street, aerial video showed.
Police then became engaged in a standoff with the man, who remained cowered in a small passageway between a shed and a wall.
Shortly before 8 a.m., police officers stormed the yard and handcuffed the man without further incident and loaded into a police car.
No further details were immediately available.
A heavily tattooed suspect apprehended by police after a pursuit in a neighborhood of Burbank. @latimes @latimesphotos @LANow @BurbankPD #policepursuit pic.twitter.com/ONu3vFMxce

— Irfan Khan عرفان (@latfoto) January 4, 2018