This is an archived article and the information in the article may be outdated. Please look at the time stamp on the story to see when it was last updated.
A 20-year-old driver involved in a stolen vehicle pursuit was killed Tuesday morning after Long Beach police officers opened fire on the car when it turned and approached them in Bellflower.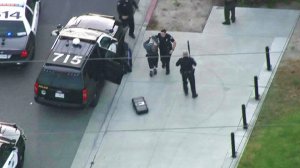 The chase began about 5:55 a.m. near the intersection of North Paramount and East Artesia boulevards after police received a LoJack hit for a stolen vehicle out of the Los Angeles area, Long Beach Police Department Sgt. Brad Johnson said.
Sky5 was over the pursuit about 6:10 a.m. as the vehicle traveled at a high rate of speed in Long Beach and through the Bellflower and Downey areas. A second person was sitting in the car's passenger seat.
"At one point a handgun was thrown out of the vehicle," Johnson said, adding that the weapon had been recovered.
The driver, who was identified late Tuesday as Pomona resident Juan Manuel Avilla, narrowly avoided being involved in several collisions as the car — an older-model Honda Civic that a CHP said was believed to have been stolen — sped through multiple intersections.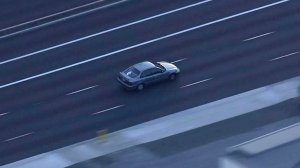 The chase continued on the 91, 710 and 105 freeways before the driver returned to surface streets in Norwalk, video showed just before 6:30 a.m.
Among the several near-misses, the vehicle almost hit a motorcyclist while traveling westbound through an intersection on Alondra Boulevard.
The pursuit came to an end about 6:40 a.m. when the driver entered a parking lot of a Storage Outlet facility on Foster Road in Bellflower.
The vehicle turned around in the parking lot and began to drive slowly in the direction of officers, who had blocked the exit and gotten out of their vehicles.
Long Beach police officers then opened fire on the vehicle, Johnson said.
The car rolled to a stop near the parked patrol cars at the entrance of the storage facility. Video appeared to show several bullet holes in the vehicle's windshield.
Avilla was pronounced dead by Los Angeles County Fire Department personnel, police said.
The passenger, later identified as David Anthony Luera of Paramount, was taken into custody uninjured.
Luera, 20, was booked into the Long Beach Jail for ex-felon possession of a firearm and being in possession of a stolen vehicle, police said in a released statement.
Luera was being held on $35,000 bail.
No officers were hurt in the incident, the sergeant said.