This is an archived article and the information in the article may be outdated. Please look at the time stamp on the story to see when it was last updated.
Authorities were in pursuit of a stolen vehicle in the Norwalk area before dropping off and temporarily letting the driver go Thursday morning.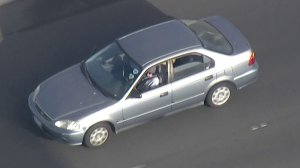 Sky 5 was over the surface street pursuit at about 7:30 a.m. just before the driver briefly entered the 5 Freeway.
The vehicle, a gray four-door sedan, exited the freeway and returned to the surface streets of Norwalk after just a few miles.
It was unclear where the pursuit began, but the Los Angeles County Sheriff's Department confirmed the car had been stolen.
Sheriff's Department vehicles could be seen staging about a block behind the driver when the car came to a stop at the intersection of Firestone Boulevard and Imperial Highway.
As the car headed toward the Downey area about 7:50 a.m. it appeared the Sheriff's Department vehicles had stopped pursuing the stolen vehicle suspect, who did not appear to be driving erratically at the time.
Sky 5 remained over the vehicle for a few more minutes before breaking away as well.
Check back for updates on this developing story.