This is an archived article and the information in the article may be outdated. Please look at the time stamp on the story to see when it was last updated.
A man who was believed to be armed led authorities on a pursuit through the San Fernando Valley Wednesday before being taken into custody.
Aerial video from Sky5 showed the driver in a white minivan with paper license plates traveling northbound on the 101 Freeway near Topanga Canyon just after 10 a.m.
The pursuit began following a report of a man with a gun, Los Angeles Police Department Officer Mike Lopez said.
Video showed the driver come to a stop on the 101 Freeway about 10:23 a.m., but he did not immediately exit the vehicle.
Video showed a shirtless man in the driver's seat of the vehicle drinking from some type of container and gesturing out of the window before the vehicle began moving again.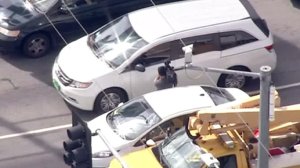 At one point the driver exited on De Soto Avenue then re-entered the freeway going southbound.
The minivan exited the 101 Freeway about 10:45 a.m. and headed northbound on Woodman Avenue in Sherman Oaks while being followed by several California Highway Patrol and LAPD vehicles.
The minivan eventually stopped at an intersection, prompting several officers to exit their vehicles, before driving off again.
Authorities have kept their distance from the minivan and planned to "base their actions on what the suspect is doing," CHP spokeswoman Siara Lund said.
Just before 11 a.m., a man with a video camera rushed up to the driver's window while the minivan was stopped at an intersection.
After a few moments, the minivan drove off without interacting with the cameraman and the pursuit continued.
About 11:20 a.m., the minivan came to another stop, this time on Sherman Way near North Hollywood, before the man finally exited the vehicle.
He appeared to be following the officers' orders and surrendered in the street before being taken into custody without incident.