This is an archived article and the information in the article may be outdated. Please look at the time stamp on the story to see when it was last updated.
A suspected carjacker was in custody Wednesday following an hourslong standoff and slow-speed pursuit through South Los Angeles and into the South Bay area Wednesday morning.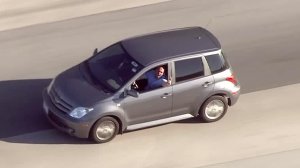 The incident began about 7:40 a.m. when a carjacking was reported near the intersection of East 68th Street and South Central Avenue in the Florence neighborhood, Los Angeles County Sheriff's Department Sgt. Ingham said.
Officers soon located the stolen vehicle and began the pursuit near Tweedy Boulevard and Otis Street in South Gate, South Gate Police Department Capt. Darren Arakawa said.
Aerial video from Sky5 showed several patrol cars and a motorcycle officer following the gray four-door hatchback westbound on Century Boulevard about 8:20 a.m.
At one point the driver, eventually identified as Carlos Mercado, 27, could be seen gesturing out one of the vehicle's windows.
The driver did not appear to be speeding, but did run at least one red light, video showed.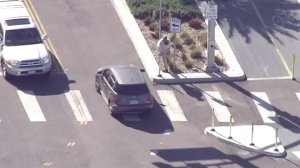 The stolen vehicle appeared to have a sticker for the ride-hailing company Lyft in the window.
Mercado continued down Century Boulevard past the 405 Freeway before eventually taking Manchester Avenue into the South Bay.
An officer was seen trying to place a spike strip in front of the vehicle as it continued through Manhattan Beach about 9 a.m. The vehicle appeared to have at least one flattened tire as the driver made his way through Hermosa Beach.
About 9:25 a.m., patrol units appeared to have dropped back from the pursuit vehicle, which was still being tracked by an airship as it reached Redondo Beach.
One person was spotted on video apparently throwing an object at the vehicle as it passed through an intersection.
The pursuit came to an end about 9:45 a.m. on Pacific Coast Highway near Palos Verdes Boulevard in Redondo Beach, on the border with Torrance. Mercado did not immediately exit the vehicle, prompting a standoff with authorities.
PCH was shut down in both directions as authorities waited near the vehicle with guns drawn.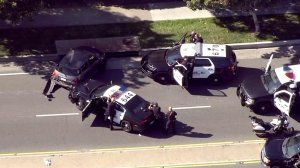 Two armored sheriff's SWAT vehicles were brought to the scene and surrounded the vehicle as the driver remained inside just before 10:30 a.m.
About 11:15 a.m., nearly 3 1/2 hours after the vehicle was first reported stolen, the suspected carjacker was taken into custody, the Redondo Police Department tweeted.
He exited the car and was taken into custody without incident, the Sheriff's Department said. Video showed Mercado removing his shirt and then laying down on the pavement.
Redondo Beach police Capt. Joe Hoffman said authorities contacted a family member during the chase and learned that Mercado "may be suffering from some sort of mental health issues." Hoffman also referred to "previous treatment for mental health."
He was taken the sheriff's Century Station. Authorities said he was booked him on suspicion of carjacking and evading. His bail was set at $175,000, officials said.
Redondo Beach police said they used drones during the pursuit.
KTLA's Melissa Pamer contributed to this article.
@RedondoBeachPD deployed drones during barricade at conclusion of pursuit today. Using technology to keep the public safe. pic.twitter.com/cJEEvyJRkj

— RedondoBeachPD (@RedondoBeachPD) March 1, 2017