This is an archived article and the information in the article may be outdated. Please look at the time stamp on the story to see when it was last updated.
A man was fatally wounded by officers and a woman taken into custody after the two got out of a pursuit vehicle in the Long Beach area and attempted to flee on foot.
The pursuit began around 12:36 p.m. when nearby South Gate police officers identified a white van as stolen.
"Officers in the city have like plate readers, and the plate readers picked up this van as stolen," said Lt. John Corina with the Los Angeles County Sheriff's Department. "That's when they tried to do a traffic stop and the van took off."
Sky5 was first over the pursuit in South Gate before the white van being chased headed into Lynwood and Compton.
Around 12:47 p.m., the van slowed to drop off a passenger, identified by police as a 23-year-old Hispanic man, who immediately laid down on a street corner with his hands behind his head.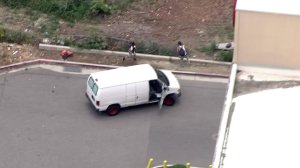 The van then got on the northbound 710 Freeway before heading back onto surface streets in Paramount.
The car pulled into a shopping center parking lot where two people, including the driver, got out of the van. One was carrying three large bags which were ditched as the two fled underneath the 91 Freeway, slightly east of Garfield Avenue.
The two, identified by police as a man and a 27-year-old Hispanic woman, were then seen heading down railroad tracks, where authorities caught up with them behind a warehouse at 2307 E. Artesia Blvd. in Long Beach.
The man appeared to pull out a weapon and aim it at officers. Police later confirmed in a press release that a firearm was not located on the suspect.
"He did have some tools that fell out of the backpack, screwdrivers, pliers, things like that," said Corina. "He put a glove on his hand during the foot pursuit, reached into the backpack and was trying to pull something out and turned on the officers. As he pulled something out that's when the shooting happened."
Officers shot the man, who lied face-down on the tracks for some time before paramedics pronounced him dead, according to a statement from Los Angeles County sheriff's officials.
The woman hid in a building on the warehouse property for hours, eventually peacefully giving herself up to authorities.
No officers were injured during the incident, police said.
The 23-year-old man and 27-year-old woman were later booked at South Gate Police Department on suspicion of grand theft of a vehicle.