This is an archived article and the information in the article may be outdated. Please look at the time stamp on the story to see when it was last updated.
Law-enforcement personnel took a man into custody after a standoff that lasted several hours Wednesday morning at a business in the Florence area of South L.A., authorities said.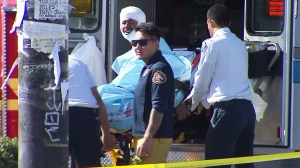 Deputies and a SWAT team responded at 5:20 a.m. to the 8600 block of Hooper Avenue in unincorporated Los Angeles, "regarding a male adult robbery suspect who has barricaded himself at the location," the Los Angeles County Sheriff's Department said in a statement.
Sky5 video also showed several Los Angeles Police Department vehicles and officers at the Ranch Market, a store near the intersection of Hooper Avenue and Firestone Boulevard.
An armored sheriff's vehicle was seen near the front entrance to the building, where a man had apparently triggered a silent alarm after forcing his way in though a skylight.
After an extensive search of the building, a special weapons team was able to take the man into custody, the sheriff's department stated in a news release.
He was taken to a local hospital in unknown condition.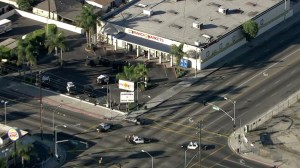 There were no reports of school lockdowns in the area. However, a one-block radius surrounding the scene was closed off, resulting in the re-routing of Metro buses.