This is an archived article and the information in the article may be outdated. Please look at the time stamp on the story to see when it was last updated.
Investigators were searching for a suspect Sunday following a shooting at a South L.A. liquor store that left one man dead, police said.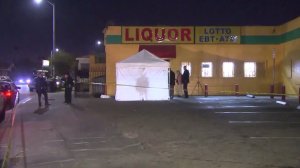 A Los Angeles Police Department sergeant was near the intersection of Hoover Street and Gage Avenue just before midnight Saturday when he observed a disturbance taking place, according to LAPD Sgt. Thomas Bojorquez. After responding to the scene at Gourmet Liquor Mart he found a Hispanic man suffering from gunshot wounds in front of the store, he said.
The victim, in his mid-30s, was pronounced dead at the scene after the suspect had apparently fired at him several times, authorities said.
Another Hispanic man was seen running from the scene, but officers are unsure whether he could be a suspect or another victim fleeing gun violence, they said. Investigators believe the suspect approached the victim and fled on foot.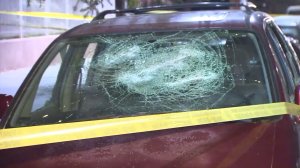 Four cars on Gage Avenue near the scene were vandalized, and authorities plan to look at surveillance video to determine whether this was related to the shooting and hopefully gather a clearer suspect description.
It's unclear whether the shooting was gang-related and the circumstances leading up to the shooting are unclear, police said. The incident remains under investigation.