This is an archived article and the information in the article may be outdated. Please look at the time stamp on the story to see when it was last updated.
Authorities on Sunday morning were investigating the death of a man who was found fatally shot in the parking lot of a Marina del Rey restaurant.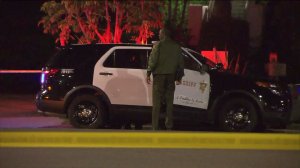 Deputies responded about 3:40 a.m. to a report of a possible gunshot victim in the 400 block of West Washington Boulevard, where they arrived to find several people performing CPR on a man, said Lt. Holly Francisco of the Los Angeles County Sheriff's Department.
The victim, identified as Christopher Rothschild Cleveland by the Los Angeles County coroner's office, had been shot once, according to Francisco.
Los Angeles County firefighters responded to the scene, outside an Islands restaurant, and pronounced the 27-year-old man dead. The business was closed at the time of  the incident.
Sheriff's homicide detectives were interviewing people who may have seen or heard the shooting, Francisco said.
One resident told KTLA she was stunned by the violence.
"It's not normal for something like this to happen here," Danielle Wolff said. 
No description of the shooter was available, but Lt. Steve Rubio said the two may have known each other.
Anyone with information about the incident was asked to call the sheriff's Homicide Bureau at 323-890-5500.
KTLA's Ashley Soley-Cerro contributed to this report. 
More video: