This is an archived article and the information in the article may be outdated. Please look at the time stamp on the story to see when it was last updated.
Police are investigating whether the driver of a vehicle was intoxicated and racing when his BMW slammed into two trees in the median on Fairview Street early Friday, killing his passenger, police said.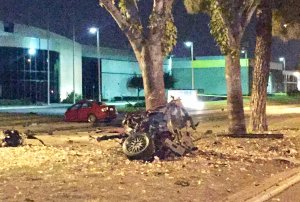 Officers responded to the single-vehicle crash scene near the intersection with MacArthur Boulevard around 12:37 a.m. to find both the sedan's occupants trapped and injured, according to a statement from the Santa Ana Police Department. First responders pronounced the passenger dead at the scene and the driver was transported to a nearby hospital with major injuries, authorities said.
The coroner has identified the deceased passenger as 21-year-old Federico Hernandez of Westminster. The driver, 21-year-old John Nguyen of Garden Grove, was arrested on suspicion of driving under the influence, police said.
The red BMW 328i appeared to have been moving at an excessive speed when it crashed based on its damage, point of rest and witness statements, officers said.
Witnesses at the scene told police the car may have been racing a dark-colored Dodge Charger with green underbody lights, according to the statement. The BMW reportedly lost control after passing MacArthur Boulevard, colliding with the trees on the center median with such force that it broke into two pieces, with the front becoming lodged into the trees and the back portion skidding across to the sidewalk.
The incident remains under investigation.