This is an archived article and the information in the article may be outdated. Please look at the time stamp on the story to see when it was last updated.
Authorities are investigating a triple homicide in Palmdale and the victims are believed to be a family, Los Angeles County Sheriff's Department officials said Sunday.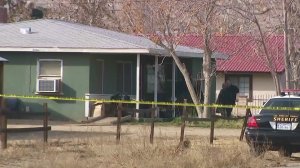 Deputies responded to a home in 1100 block of West Avenue N-12 about 3:50 p.m. Saturday after a sister of one the victims asked them to check on the welfare of the residents.
Deputies discovered a man dead inside the home and eventually found two more victims, a man and a woman in another room, officials said in a news release.
The victims matched the description of the people who live in the home, but they have not been positively identified, officials said.
Lt. John Corina said investigators believe the victims are a father, the owner of the home, his son, believed to be in his 50s, and the man's wife, also in her 50s.
All three appear to have suffered "some trauma to their bodies," but the exact cause of death is under investigation.
Officials had no suspect description.
Anyone with information about the incident can call the sheriff's department homicide bureau at (323) 890-5500.