This is an archived article and the information in the article may be outdated. Please look at the time stamp on the story to see when it was last updated.
Los Angeles authorities are investigating after four vehicles and one condo unit caught fire in North Hollywood on Saturday.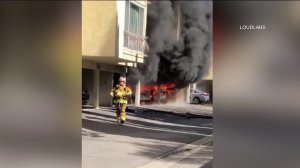 Firefighters were called to a 4-story condominium complex in the 12700 building of Burbank Boulevard around 12:59 p.m. There, they found four cars burning on the first floor parking level of the building.
The flames eventually spread to one second floor condo unit directly above the parking garage, the Department said.
The blaze was extinguished around 1:23 p.m. There were no injuries reported and the cause, monetary loss and number of displaced residents is currently under investigation.
Saturday's fire follows a string of arson fires that have impacted North Hollywood in recent weeks.
Authorities have not yet determined that Saturday's blaze is related to the other fires but residents in the area are beginning to express concern.
"I've lived here for several years and we've never had any issues until recently," said Travis Cohen, a neighbor. "About two months ago there was a dumpster fire in my building and then this whole thing today. It's kind of scary because this is supposed to be a secure area."
The suspected arsonist is described as a 20 to 30-year-old white woman who rides a beach cruiser, according to the Los Angeles Police Department.
On Sunday morning, LAFD put out a three-vehicle blaze at a Westlake District apartment carport.  Authorities said there is no indication that the fire is related to the ones in North Hollywood.