This is an archived article and the information in the article may be outdated. Please look at the time stamp on the story to see when it was last updated.
One person was in custody Monday morning following a high-speed pursuit in the San Fernando Valley.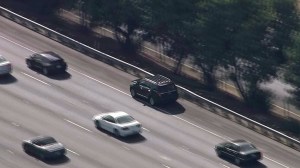 The chase began when a California Highway Patrol officer spotted a black Ford Explorer traveling more than 100 mph on the 101 Freeway in Agoura at about 8:30 a.m., according to a CHP news release.
The officer attempted to stop the vehicle, but the driver refused to pull over and the pursuit began, the release stated.
At one point, the SUV driver allegedly attempted to ram a CHP officer on a motorcycle who had joined the pursuit, according to the news release. Authorities initially indicated the SUV driver was attempting to ram a patrol car.
The chase continued on the 101 Freeway and through city streets before authorities lost sight of the SUV at 8:48 a.m., according to the news release.
An LAPD Air unit spotted a vehicle matching the description and CHP officers resumed the pursuit when the SUV returned to the 101 Freeway.
At about 9:20 a.m., the SUV exited the 101 Freeway at Reseda Boulevard and collided with two vehicles, aerial video from Sky5 showed.
No one was injured in the crash, according to Officer David Galbraith of the Los Angeles Police Department.
Following the crash, video showed patrol cars had blocked the SUV as officers with guns drawn swarmed the vehicle.
The driver, who was later identified as a 40-year-old man from Santa Clarita, was then pulled from the SUV and taken into custody.
Investigators later determined the man taken into custody was wanted on two outstanding warrant charges including one for assault with a deadly weapon, according to the news release.