This is an archived article and the information in the article may be outdated. Please look at the time stamp on the story to see when it was last updated.
Four people were taken into custody after a pursuit ended in a crash on the 5 Freeway Santa Ana on Wednesday.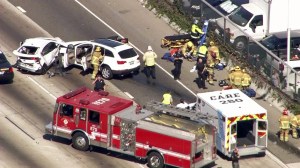 The chase began in Laguna Hills at about 11 a.m. when sheriff's deputies attempted to pull over a white Audi SUV with four alleged burglars inside, according to Lt. Jeff Hallock with the Orange County Sheriff's Department.
The driver refused to stop and led authorities on a pursuit that lasted about 30 minutes before crashing into a white Chevy Volt on the 5 Freeway near the Westfield MainPlace mall in Santa Ana.
All four of the alleged burglars were taken into custody, including one who fled into the mall before being caught by Santa Ana police, Hallock said.
The driver of the Chevy Volt, 26-year-old John Jensen, said he was driving back from a veterinarian's office with his English bulldog "Tank" and was unaware of the pursuit prior to the crash.
Video showed heavy damage to both of the vehicles involved in the wreck, but Jensen said he and Tank were going to be OK.
Several lanes on the 5 Freeway had to be closed during the investigation, aerial video from Sky5 showed.
All lanes had reopened by about 1 p.m.