This is an archived article and the information in the article may be outdated. Please look at the time stamp on the story to see when it was last updated.
A woman who led authorities on a wild pursuit in a stolen U-Haul truck from South L.A. to downtown is in custody after crashing into a patrol car and running into a produce market, aerial video showed.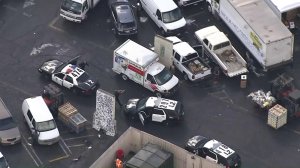 The pursuit began about 10 a.m. at 61st Street and Broadway, Los Angeles Police Department Lt. Chris Ramirez told KTLA.
The woman drove recklessly through surface streets and weaved in and out of traffic to avoid hitting cars, but crashed into at least one. At one point she was driving on the wrong side of the road and squeezed in between other vehicles in traffic to evade police.
After being boxed in a dead end, she backed up and continued into an outdoor produce market, where authorities surrounded her. She managed to back out, but struck a patrol car where it appeared that at least one officer fired a shot in her direction.
She continued to evade police before getting out of the vehicle and running into the market. She was eventually taken into custody by several LAPD officers.
The woman was assessed at the scene, but she did not appear to have any injuries. Police restrained her arms and legs and covered her face as the woman appeared to be extremely agitated, aerial video showed. She was taken to a hospital for treatment.
No officers or bystanders were injured during the pursuit. The market and courtyard area were crowded during the incident.
She could face evading, hit-and-run and driving a stolen vehicle charges, according to Ramirez.
Two LAPD patrol vehicles were damaged during the incident. A third was possibly damaged inside the produce market, Ramirez said.