This is an archived article and the information in the article may be outdated. Please look at the time stamp on the story to see when it was last updated.
A pursuit driver was detained outside a movie theater he had been hiding in after evading authorities in a high-speed chase on freeways and surface streets throughout the East Los Angeles area on Thursday.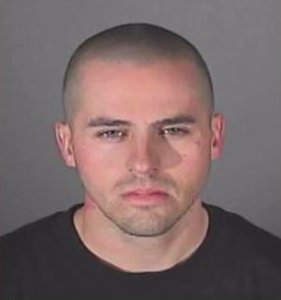 The chase was the result of a mail theft sting, according to Arcadia police. A decoy package with a GPS tracker was taken from the 1600 block of Holly Avenue in Arcadia around 6:40 p.m., officers said in a statement.
Police tracked the package to a parking lot in Hacienda Heights. When officers attempted to confront the man in the vehicle they believed the package was in, the car fled.
The driver, later identified as 27-year-old La Mirada resident Christopher Cook, was eventually arrested following an extensive, multi-agency pursuit.
Sky5 caught up with the chase on the westbound 60 Freeway just east of the 605 Freeway in the Whittier area, with California Highway Patrol in pursuit. The vehicle then got onto the 5 Freeway via the 710 Freeway before exiting onto surface streets, aerial video showed.
CHP officials terminated the pursuit once the vehicle left the freeway and headed into East Los Angeles, as it was no longer their jurisdiction.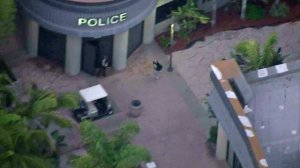 The vehicle was weaving through Thursday evening traffic in various cities, including Commerce and Bell, as Los Angeles County sheriff's deputies were making their way toward the scene.
The driver pulled into a shopping complex at the corner of Firestone Boulevard and Garfield Avenue in South Gate around 7:45 p.m. and parked the car, fleeing on foot into the Edwards South Gate 20 movie theater.
Patrons were seen leaving the theater en masse just before 8 p.m. as officials were attempting to clear bystanders from the scene.
By 8:30 p.m. the driver was still in the theater, but family members had arrived on scene in attempt to negotiate.
Cook was eventually taken into custody and escorted from the theater around 9 p.m.