This is an archived article and the information in the article may be outdated. Please look at the time stamp on the story to see when it was last updated.
Authorities pursued a stolen pickup truck through Los Angeles County Friday night.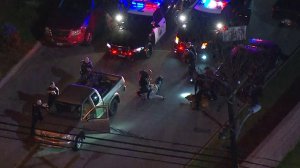 Los Angeles County Sheriff's deputies began the chase about 10 p.m. in the South Los Angeles area after a LoJack vehicle anti-theft system signal alerted them to the stolen truck, Los Angeles County Sheriff's Department officials said. Deputies turned over the pursuit to the California Highway Patrol as it made its way through Los Angeles, Long Beach, Gardena and Downey, using numerous freeways and surface streets.
The driver fled at speeds of more than 80 mph and blew through red lights at times. The driver also turned off the truck's headlights at several points during the nighttime chase.
The truck crawled to a stop on a residential street in Bellflower about an hour and a half after the chase began, but no one exited. Officers took positions with weapons trained on the truck as the pursuit turned into a standoff.
The suspect ultimately exited the truck and surrendered about midnight.