This is an archived article and the information in the article may be outdated. Please look at the time stamp on the story to see when it was last updated.
A driver of a stolen truck was taken into custody in Seal Beach Friday morning after authorities used a PIT maneuver to stop the chase, causing the truck to flip over and large items to spill on the roadway.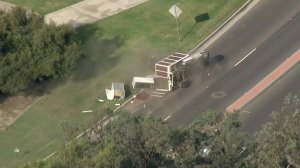 The driver then ran from the scene, but was tackled by authorities in a parking lot nearby, aerial video from Sky5 showed.
The pursuit apparently began in the Long Beach area, before the driver of the truck ended up in Buena Park, and California Highway Patrol took over the chase.
The truck had large items in the back as the suspect was driving on the wrong side of the road in Westminster, aerial video showed.
The driver was driving erratically through intersections, weaving in and out of traffic.
Eventually, a patrol vehicle crashed into the back of the truck, causing the driver to lose control, hit a center median and crash onto the opposite side of the roadway. At least one refrigerator, a recliner and soil spilled onto the roadway after the crash, aerial video showed.
No further details about the pursuit or the suspect were released Friday morning.