This is an archived article and the information in the article may be outdated. Please look at the time stamp on the story to see when it was last updated.
A reckless DUI suspect involved in a police chase in northern Antelope Valley stole a California Highway Patrol vehicle before surrendering to authorities Wednesday evening.
The pursuit started about 5:07 p.m. in Palmdale, where deputies attempted to pull over a Kia Optima due to suspected reckless DUI, Deputy Juanita Navarro-Suarez of the Los Angeles County Sheriff's Department Information Bureau said. The pursuit was cancelled due to safety concerns as the driver sped down the 14 Freeway , then reinitiated. The pursuit headed through Lancaster, then across the Kern County line, officials said. Shortly after crossing into Kern County, the fleeing suspect came to a halt and "commandeered" a Toyota Tocoma pickup truck, Navarro-Suarez said. The pursuit continued into the desert, at times veering off-road. The driver struck pursuing deputies' vehicles several times. CHP officers then took charge of the chase.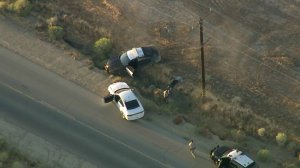 Sky5 was overhead as the driver crashed the truck in the desert and ran. A woman was seen exiting the truck with him. She hugged the suspect before he continued on his way. Minutes later, the driver got into an unoccupied CHP cruiser and again sped off. With the patrol car's emergency lights on, the suspect took off and later swerved onto a dirt road. He kept driving along several other unpaved roadways, traveling on dirt roads and sometimes off-roading. Authorities ultimately cornered the suspect, at which point he surrendered. The woman who was riding along with him during the pursuit was ultimately found hiding in the desert and taken into custody, as well, officials said. Charges were expected to include theft of a police car and assaulting a deputy.
KTLA's Nidia Becerra and Nancy Fontan contributed to this report.
Just when you think you've seen the craziest pursuit ever, something like this happens! https://t.co/u8q4b0ch3N

— Tim Lynn (@Sky5Tim) October 3, 2019