This is an archived article and the information in the article may be outdated. Please look at the time stamp on the story to see when it was last updated.
A driver who struck a man on a motorized scooter during a wild, three-hour pursuit that moved through three counties is in custody after a standoff with California Highway Patrol officers along the 5 Freeway at Camp Pendleton Thursday afternoon.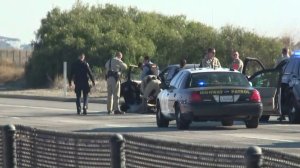 The driver — of an older-model maroon Honda Civic — had eluded authorities despite multiple PIT maneuver attempts made by Los Angeles Police Department officers. CHP spokesman Officer Mark Latulippe identified the driver as 34-year-old Karl Flores, describing him as a veteran suffering from post-traumatic stress disorder. Officers could be seen approaching the vehicle with a K-9 about 2:13 p.m., removing Flores from inside and placing him in handcuffs. Officers had fired a "less-lethal" round from a shotgun at him, and the dog bit him, Latulippe said. Flores appeared to receive medical aid as officers took him into custody on the side of the freeway. Hostage negotiators had worked with Flores' wife to try to get him to surrender, Latulippe said. The chase began in the area of Sepulveda and Washington boulevards about 10:50 a.m., when Culver City police officers tried to stop the Honda following a vehicle code violation "and suspicion that the vehicle was possibly stolen," according to a police news release. But when police couldn't confirm if the vehicle was stolen and the motorist continued with "erratic driving," officers stopped chasing him out of concern for public safety. Shortly after that, an LAPD helicopter spotted the Honda striking someone on a motorized scooter, and Culver City police again began chasing the Honda until Los Angeles officers could take over, the Culver City Police Department news release stated.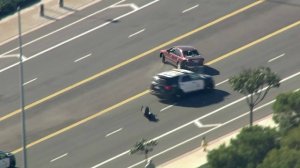 The pedestrian was struck in the 7800 block of West Manchester Avenue in the Playa del Rey area about 11:15 a.m.,
according to the L.A. Fire Department
. The male victim, who had been on a scooter, suffered non-life threatening injuries, LAPD Sgt. Thomas Trandal told KTLA. The victim was "sucked up under" the car but was expected to be OK, the sergeant said. The Honda had severe damage to its windshield and back window during the ensuing chase, aerial video from Sky5 showed. The driver proceeded to lead several police cruisers on a slow-speed pursuit, driving about 25 mph through surface streets. About 11:45 a.m., LAPD officials attempted four PIT maneuvers, but the driver continued, dragging the car's rear bumper. The Honda eventually began speeding up as the car continued to evade police. The driver eventually got on the 405 Freeway in Playa Vista and continued south into Inglewood, Long Beach and then into Orange County, where he drove at regular freeway speeds. The driver continued on the 5 Freeway and eventually entered San Diego County.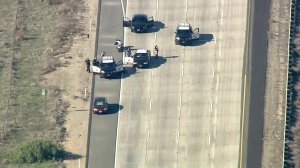 The Honda eventually stopped about 1:30 p.m. near the Las Pulgas Road exit in the Camp Pendleton area near Oceanside, aerial video showed. Latulippe said the vehicle had run out of gas. The plates on the 2002 Honda indicate it was registered to a Karl Flores, according to the Department of Motor Vehicles. That suggests the vehicle was not actually stolen, as police initially indicated. Video footage obtained by KTLA later showed Flores sitting upright on a stretcher as he was unloaded from an ambulance at Tri-City Medical Center in Oceanside. There appeared to be blood stains on his face and bare chest. A few hours later, authorities escorted the detainee from the hospital and loaded him into the back of a CHP SUV. Javed Bava, president of the Islamic Center of Inglewood, said he got to know Flores after the suspect began attending his mosque about six or seven years ago. Bava told KTLA he was "very sad" upon learning of Flores' involvement in the lengthy chase. "If he had these issues, no one has paid attention to that," he said.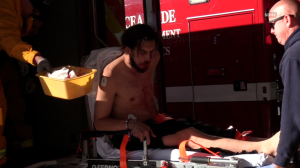 At first, Flores was a "regular guy," Bava said. But then he stopped coming to the mosque for a while, and had changed once he returned. Bava alleges that Flores assaulted a groundskeeper in 2016, and the man — in his 70s — was subsequently hospitalized for several days. "He had drugs in his hand, and that's the time we came to the conclusion, 'OK, he's totally on the wrong path,' " Bava said. "But on the same token, his family keeps telling us that he has these mental issues, PTSD." Others who worship there said Flores lived in an apartment behind the Islamic Center but was evicted several weeks ago, and that his wife left and took their baby with her. It had been a while since Flores showed up at the mosque until two days ago, when he returned and was allegedly involved in another unprovoked attack on someone in the prayer hall. "There are some nice people who tried to explain him, 'Hey took, take it easy, go away,' " Bava said of the latest incident. "He didn't do that, he didn't listen to that, and he started assaulting that person."
KTLA's Melissa Pamer and Erika Martin contributed to this story.