This is an archived article and the information in the article may be outdated. Please look at the time stamp on the story to see when it was last updated.
Two people were taken into custody after officials chased a vehicle suspected of towing a stolen trailer for two hours across several freeways in the San Gabriel Valley and on surface streets in downtown L.A., on Monday.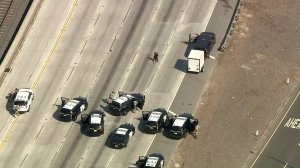 The pursuit began around 12:30 p.m. near the intersection of Fourth Street and Haven Avenue in Rancho Cucamonga, according to Jodi Miller with the San Bernardino County Sheriff's Department.
The dark-colored truck with a camper shell was seen towing a small, enclosed trailer, the contents of which were initially unknown. Video captured by Sky5 after the chased ended showed the trailer appeared to contain personal belongings and household items.
Two people were in the vehicle, and authorities treated the situation as if the individuals were armed, although they had no confirmation of that.
"We want to treat every pursuit as if the suspect is armed," California Highway Patrol Officer Juan Galvan said.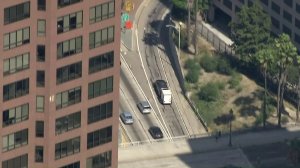 A vehicle trailing a trailer is limited to 55 mph under the law, he noted, adding that at higher speeds, the trailer could begin to fishtail or could get unhitched and "become a projectile in itself."
Sheriff's officials had been in pursuit of the truck but the CHP assumed control of the chase around 1:50 p.m. CHP was notified of the incident around 12:45 p.m., according to Galvan.
The driver headed west on the 10 Freeway, then exited at Alameda Street just after 2 p.m. and began using surface streets in downtown Los Angeles.
The driver was weaving through lanes of traffic on both sides of the road on a meandering path through the busy downtown area, often barely avoiding colliding with other motorists. A group of five CHP patrol SUVs were on the vehicle's tail.
Around 2:15 p.m., the truck got onto the 110 Freeway and then back off in downtown, near high-rise buildings. The truck eventually headed north on the 110 Freeway toward Pasadena, where it at one point traveled down busy Colorado Boulevard through the Old Pasadena shopping area.
About 2:35 p.m., the driver stopped the truck on the shoulder of the eastbound 210 Freeway near the Sierra Madre Villa Avenue exit in Pasadena. Both the driver and passenger stuck their hands out the windows in a show of surrender.
The driver exited the vehicle first and was taken into custody without further incident, followed by the passenger. Both appeared to be men.
KTLA's Jennifer Thang and Melissa Pamer contributed to this report.