This is an archived article and the information in the article may be outdated. Please look at the time stamp on the story to see when it was last updated.
Los Angeles County Sheriff's have arrested a driver in Hacienda Heights who fled on foot after driving on the wrong side of the road, running red lights and crashing into at least one car, Sky5 aerial video showed.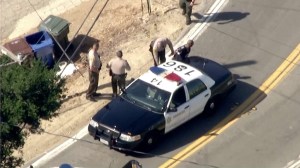 The driver at one point got on the 605 Freeway, then got off in a residential area. The driver later ended up on a narrow winding road in Hacienda Heights and got out of car after crashing, Sky5 aerial video showed.
Authorities blocked the area and were going door to door as they searched for the suspect, who is apparently wanted for driving a stolen vehicle.
The driver was taken into custody by deputies about 4:25 p.m.