This is an archived article and the information in the article may be outdated. Please look at the time stamp on the story to see when it was last updated.
Police pursued a stolen yellow coupe on surface streets in the South Los Angeles area on Wednesday, and four people surrendered after the vehicle stopped in Watts.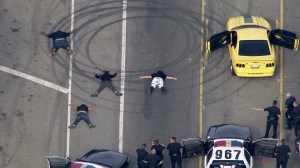 After the vehicle apparently drove over a spike strip, the driver got out of the vehicle with his hands up near 103rd Street and Wilmington Avenue about 12:30 p.m.
One by one, three women then got out of the vehicle.
All four lay spread eagle on the pavement while police searched the car. They were all taken into custody.
The vehicle was a stolen Ford Mustang, Lt. Duke with the Los Angeles Police Department's 77th Street Division said. It appeared to be a Ford Mustang SVT Cobra, aerial video from Sky5 showed.
The chase began just after noon, Duke said.
No other information was immediately available.
KTLA's Stephen Acosta contributed to this article.