This is an archived article and the information in the article may be outdated. Please look at the time stamp on the story to see when it was last updated.
Two people were taken into custody in Whittier after a driver led officers on a dangerous multi-county pursuit on Southern California freeways and surface streets during the Tuesday morning commute, aerial video from Sky5 showed.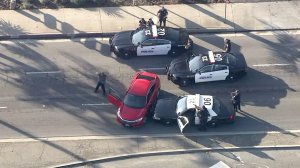 Officers initially attempted to stop a stolen red 2016 Honda Accord in the area of Western Avenue and Orangethorpe Avenue in Buena Park around 7:30 a.m., according to a news release from the Buena Park Police Department.
The car, reported stolen out of Cerritos, was occupied by a male driver and a female passenger, the release stated. The driver did not stop, and police initiated the pursuit.
The chase went through surface streets in the Lakewood and Norwalk areas before moving into Downey and later Santa Fe Springs.
At one point, the car went into a Target parking lot in the Norwalk area and appeared to be boxed in by police. The driver was able to get out of the parking lot, and pursuit continued back on surface streets, according to the footage.
By 7:55 a.m., the chase had moved onto the 5 Freeway, and the driver appeared to be dangerously maneuvering between cars at a higher rate of speed, the video showed.
About 5 minutes later, the driver was back on surface streets in the Santa Fe Springs area and traveled on the wrong side of the road for a brief period, narrowly missing oncoming vehicles at times, the aerial footage showed.
At 8:02 a.m., police successfully employed a PIT maneuver on the car in the 11500 block of Slauson Avenue in Whittier, according to the release.
With guns drawn, officers from multiple patrol cars got out of their vehicles and had their weapons pointed at the red car, the aerial video showed.
The police vehicle appeared to have pinned the driver's side door, and minutes later, the driver was still not out of the car.
A short time later, however, a female exited the car on the passenger side and was handcuffed at the scene.
The male driver got out of the car on the passenger side a short time later and also surrendered to police, the footage showed.
After being taken into custody, the pair were transported to the Buena Park Park Police Department, according to the release. Police later identified the driver as 32-year-old Brian James Alexander, of Yorba Linda, and the passenger as 44-year-old Melissa Marie Goehring, of Cypress.
Charges are pending.
The Whittier Police Department, as well as the Los Angeles County Sheriff's Department, assisted in the pursuit.