This is an archived article and the information in the article may be outdated. Please look at the time stamp on the story to see when it was last updated.
A vandalism suspect was taken into custody in on Mid-City surface streets after leading authorities on a pursuit Thursday night, according to the California Highway Patrol.
The incident was initially reported as someone tagging on the right shoulder of the westbound 10 Freeway at Overland Avenue around 8:30 p.m., CHP Officer Brandt said.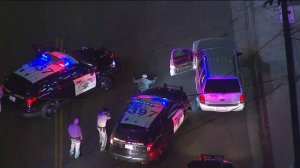 Authorities initiated the pursuit about 8:42 p.m., according to Brandt.
The Dodge Durango was headed eastbound on the 10 Freeway toward downtown Los Angeles, at times traveling at high rates of speed, authorities said.
The SUV exited the freeway at Adams Boulevard around 9 p.m., Sky5 aerial video showed.
The driver continued on even after a California Highway Patrol vehicle attempted a PIT maneuver, but stopped a short distance away in the area of La Cienega Boulevard and Cadillac Avenue, the footage showed.
He then got out of his vehicle, put his arms up in surrender and was placed in handcuffs around 9:05 p.m., according to the video.
No additional information was immediately provided.
KTLA's Nidia Becerra contributed to this story.